When states share a watercourse as a common boundary, they benefit a lot from it as a natural resource. Over time, communities along international rivers form their livelihoods and existence around them. In these circumstances, exchange of cultures, interactions, inter-marriages, etc. are common to the extent that citizens of either state can live on one side of the river, and work (economic activities, agriculture, etc. on the other side, without dispute. In these cases, especially in rural areas, most people are not really strict about citizenship, as members of the same family could live on both sides of the river.
As the rivers become the core of their day-to-day activities, management of the natural resource becomes an issue. This further leads to ownership and rights issues, thus a catalyst for conflict. With the right dialogue and governance skills, such disputes can be amicably resolved through diplomatic means, in a manner that prevents disruption of normal daily operations. It is against this backdrop that the National Water Resources Management Agency (NWRMA), in collaboration with the Mano River Union (MRU), through the GEF/IUCN-funded Mano River Union Ecosystem Conservation and International Water Resources Management project, brought partners together for a two-day training on Transboundary River Governance, in Freetown.
Olaimatu Sadiya Karim, the Project Coordinator said the training will serve as a guide for implementing transboundary water resources issues on conflicts, trade, community boundaries, and others. "We want every participant to be fully informed on how we manage transboundary water resources. These apply to the political, cultural, geographic and trade issues that surround transboundary waters."  She said.
The workshop which drew participants from local transboundary river communities, the legislature, the judiciary, Sierra Leone's natural resources management institutions, the Ministry of Foreign Affairs, and security sectors was to empower participants with the necessary knowledge and tools in global and regional water governance, and to define a road map for Sierra Leone's preparedness in terms of water resources planning and decision making. It is also in line with NWRMA's mandate to ensure the management and sustainability of the country's water resources among the competing users, and MRU's intervention to identify sustainable use and management of natural resources within member states.
Junisa Patrick Bangali Esq. is NWRMA's Director-General. He said Sierra Leone shares transboundary rivers with Guinea and Liberia, but though it is the Agency's responsibility to protect the country's transboundary waters, these waters are not governed by national laws, but by international law. "We cannot manage these (transboundary) water resources if we do not understand the governance system which international law has put in place. As head of the institution, if I don't know what international laws say about the management of transboundary water resources, how can I spearhead that process? It's a learning opportunity for me too." The Director-General said.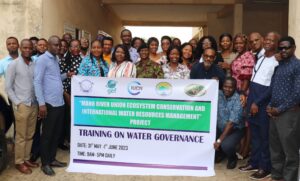 Tamba Emmanuel Nyaka is the Deputy Director for Climate Change at the country's Environment Protection Agency. He says water is quite essential for the survival of the ecosystem, and that water governance is about having proper management regimes in order to equitably and fairly distribute the resource in a manner that no one group is disadvantaged.
"I now understand that the principles of responsibility, fairness, do no harm, and dialogue play very important roles in the governance of shared water resources. The first option is always dialogue and arbitration; not conflict". He said.
Ya Marie Fornah is State Counsel at the Ministry of Justice. She said it is necessary to understand the treaties that guide states that share transboundary waters, for equitable and reasonable utilization.  She explains how the ratification of the 1992 Convention on the Protection and Use of Transboundary Watercourses and International Lakes, and the 1997 Convention on the Law of the Non-navigational Uses of International Watercourses guide conversation transboundary waters.  She called on the organizers to be having similar sessions regularly.
Giving an overview of workshop, a representative of the Secretary General of the Mano River Union, Ahmad Tejan Diallo said the Mano River is working on an initiative to establish a platform for consultation in sharing information about water resources. "The workshop's ambition is to globally improve the knowledge of water governance is more than timely and is set to contribute to the understanding of the need for regional approach and the related socioeconomic state and benefit, as well as foster economic cooperation and water diplomacy. Governing water implies ensuring its sustainable utilization, protection, and concentration. This cannot be dissociated from the management of forests and ecosystems". He said MRU hopes participants will be well-informed and be able to draw up the best lesson and practices for water governance with a view adopted in them at national and regional.
Topics taught at the training included Transboundary Water Resources Management in Sierra Leone; the Challenges and Opportunities of Water Diplomacy and Transboundary Water Cooperation in Africa and international law; the Role and Relevance of international water treaties within an African transboundary investment context; an African perspective to Accession to the Water Conventions; and the Roadmap for the Accession Process. All this was to equip participants with the necessary tools for proper transboundary water governance. It was characterized by group work and presentations and climaxed by a certification ceremony. It is hoped that participants would apply knowledge gained not only in transboundary issues, but also in in-country river disputes.
The Mano River Union Ecosystem Conservation and International Water Resources Management project is implemented by the National Water Resources Management Agency (NWRMA) and the National Protected Areas Authority (NPAA), with support from the Global Environment Facility (GEF) and the International Union for the Conservation of Nature (IUCN), through the Mano River Union (MRU). It aims to address issues around loss of biodiversity, deforestation, land degradation & soil erosion, and water pollution.